Virtual Charity Event: Robin's Runstreak Hits Day 365 Only 51 days to go!
Robin's day 365 run-streak event
365 virtual 5k/10k
RAISING MONEY FOR THE LINCS AND NOTTS AIR AMBULANCE
ü ANY TIME
ü ANY PLACE
ü ANY PACE
I have been running on average just over 6.2 miles daily since November 28th 2017 to raise money for the
Local Lincolnshire & Nottinghamshire Air Ambulance Trust.

To celebrate reaching ONE WHOLE YEAR of daily running I would like to invite you to join me by completing a VIRTUAL RUN.
Any time before the 31st December 2018 complete a 5K or 10K run ANYWHERE IN THE WORLD at a time that suits you - and at your own pace!
Just submit the evidence titled '365' to receive your medal.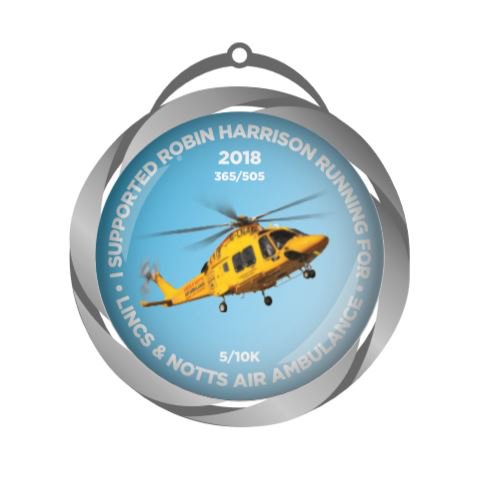 Either upload a picture to the Facebook Page - https://www.facebook.com/RocketRobin525/ or send via email to robin@dollychar.com


I do hope you will be able to join in and help to celebrate my one-year anniversary of consecutive days running to raise money for this fantastic local charity.
Good Luck!
Entry Options

Virtual Runner

£12.00